Spec Drawing Assembly Guide Large Image Packaging

Features:
Sturdy steel construction provides solid and long-lasting performance.
High quality power-coated finish provides a stylish anti-scratch surface.
Open architecture allows for increased ventilation and easier access to wires.
Security screws provide added safety for TV.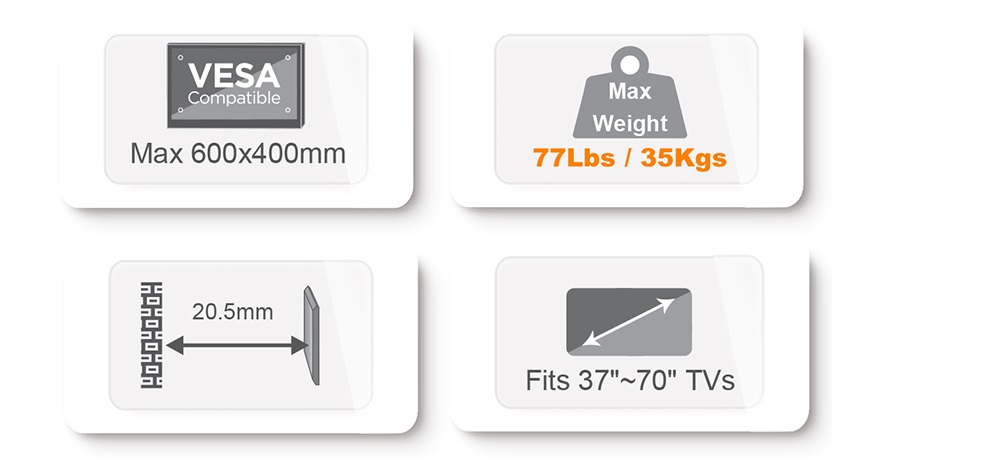 Material

Steel

Color

Fine Texture Black

Surface Finish

Powder Coating

Metal Sheet Thickness

Wall Plate THK: 0.047" (1.2mm) Cold-Rolled Sheet
Bracket Arm THK: 0.047" (1.2mm) Cold-Rolled Sheet
Compatible Screen Size *

37"~70"

Dimensions

0.81"x26.2"x16.6" (20.5x465x422mm)

Max VESA

600x400mm

Weight Capacity

77Lbs (35kg)

Profile

0.81" (20.5mm)

Tilt Range

-8°~0°

Fits Curved TV

No

Installation

Solid Wall, Double Stud (406 / 450 / 600mm)

Panel Type

Detachable Panel

Wall Plate Type

Fixed Wall Plate

Cable Management

No

Anti-Theft

No
* Note: Supported screen size is provided as a reference only. Please check the bracket dimensions above and make sure the overall bracket size does not exceed your TV.