Spec Drawing Assembly Guide Large Image Packaging

Features:
Full Motion Design - Tilts and swivels for multiple viewing angles.
Sturdy steel construction provides solid and long-lasting performance.
Cable management hook allows you to easily keep cables out of view.
High quality power-coated finish provides a stylish anti-scratch surface.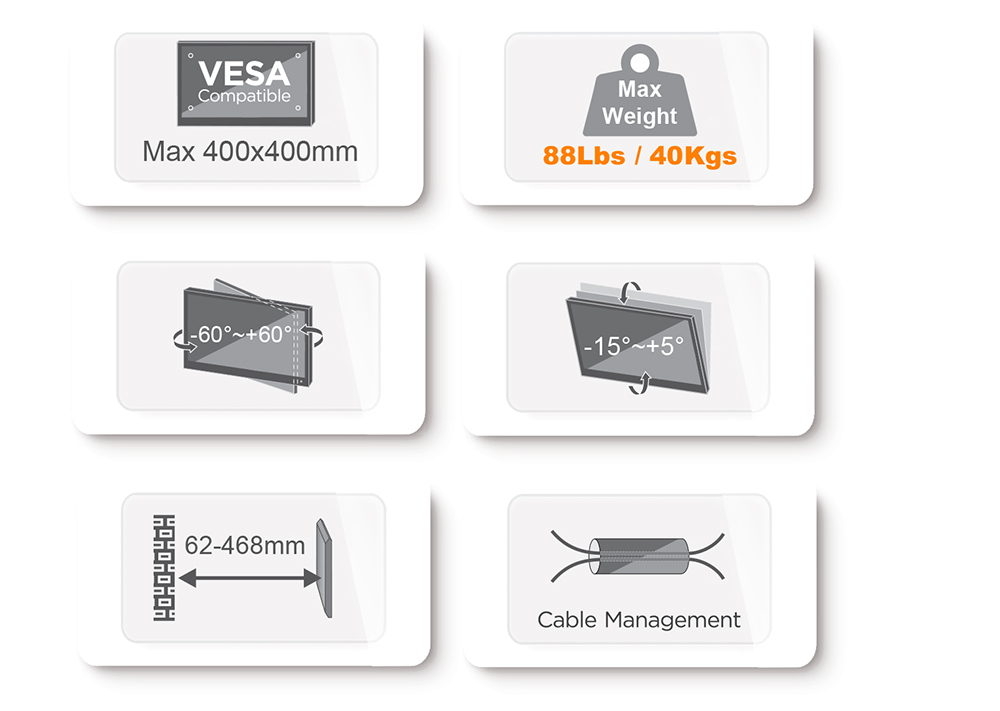 Material

Steel

Color

Fine Texture Black

Surface Finish

Powder Coating

Metal Sheet Thickness

Wall Plate THK: 0.079" (2mm) Cold-Rolled Sheet
VESA Panel THK: 0.071" (1.8mm) Cold-Rolled Sheet
Bracket Arm THK: 0.059" (1.5mm) Cold-Rolled Sheet
Compatible Screen Size *

32"~70"

Dimensions

18.4"x18.7"x16.5" (468x475x420mm)

Max VESA

400x400mm

Weight Capacity

88Lbs (40kg)

Profile

2.4~18.4" (62~468mm)

Tilt Range

-15°~+5°

Swivel Range

-60°~+60°

Installation

Solid Wall, Double Stud (406 / 450mm)

Panel Type

Detachable Panel

Wall Plate Type

Fixed Wall Plate

Cable Management

Yes

Anti-Theft

No

Fits Curved TV

Yes
* Note: Supported screen size is provided as a reference only. Please check the bracket dimensions above and make sure the overall bracket size does not exceed your TV.